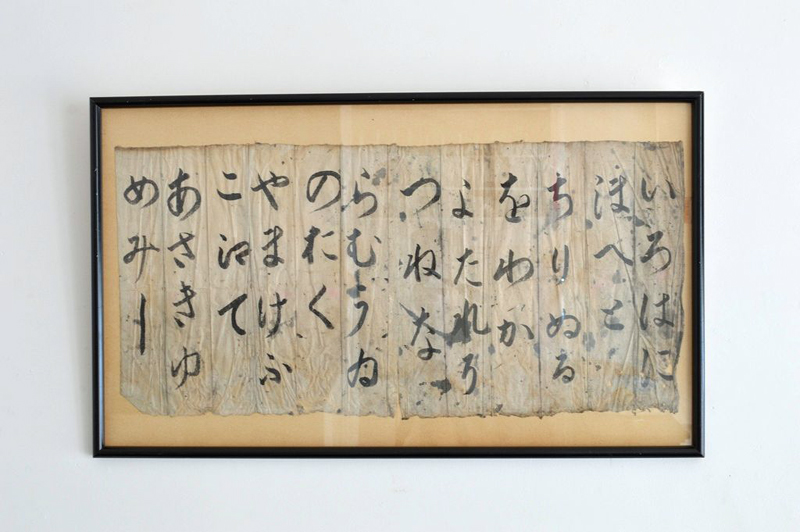 IROHA (Dealer: titcoRet) – 'Iroha' ('Iroha-uta', 'Irohanihoheto') – Traditional Japanese poem about 'Shogyomujo' ("All things are in flux and nothing is permanent.") based on 'Nehangyo' (Buddhist nirvana sutra), written in all 'Hiragana' (Japanese syllabary characters) in the style of pangram (like "The quick brown fox jumps over the lazy dog") dated back to Heian period (794-1185) as its origin.
Japanese original text (vertically from right to left):
i-ro-ha-ni
ho-he-to
chi-ri-nu-ru
o-wa-ka
yo-ta-re-so
tsu-ne-na
ra-mu-u-i
no-o-ku
ya-ma-ke-fu
ko-e-te
a-sa-ki-yu
me-mi-shi
*(e-hi-mo-se-su-n)
English translation by Professor Ryuichi Abe (quoted from Wikipedia):
"Although its scent still lingers on the form of a flower has scattered away
For whom will the glory of this world remain unchanged?
Arriving today at the yonder side of the deep mountains of evanescent existence
We shall never allow ourselves to drift away intoxicated, in the world of shallow dreams."
Gently calligraphed in India ink on the two pieces of washi papers. Meiji-Taisho period, early 20th century, Japan. Attached with with acrylic frame. Missing the last phrase of *'e-hi-mo-se-su-n'. Some stains and aging degradation as seen.
Frame: approx. 41 x 68.5 x 1.5cm (16.14 x 26.96 x 0.59in)
Sold, Thank you.
#1272

More items from titcoRet