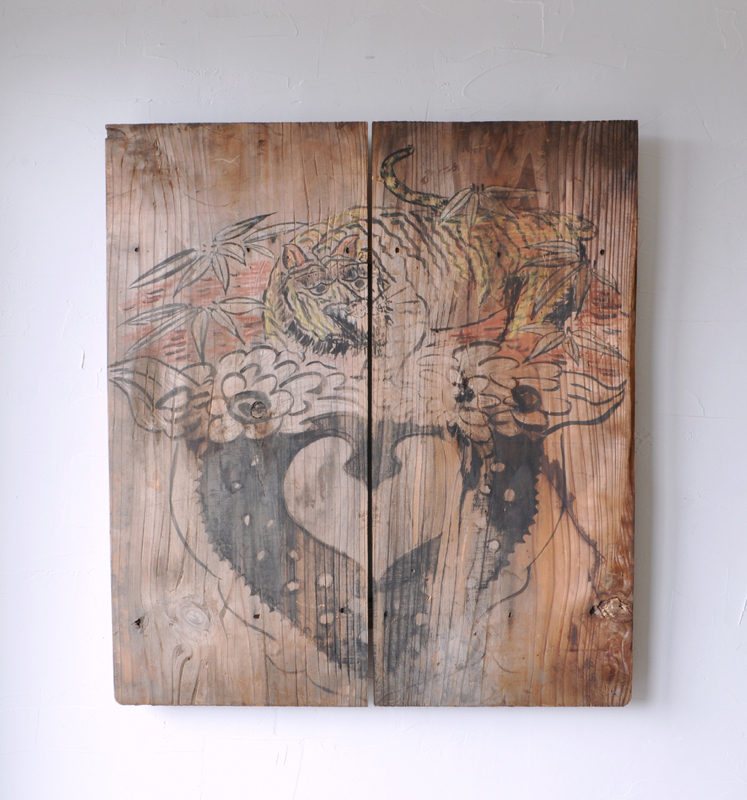 YABANE OF TIGER – Hidden handpainted woodboard by master carpenter (Dealer: hotoke antiques) – Lovely primitive mingei folk taste of tiger by such "outsider's touches" of the master carpenter.
Hand-painted house-talisman of "Tiger on the tip of arrow feather", as an extremely rare type of the traditional article for use of 'Muneage' (Japanese roof-laying ceremony), called 'Yabane', which have been left in garret of the house for long years to keep evil spirits away from the house and its family. (Today, used the printed yabane for the muneage ceremony, though yabane itself is becoming disused article lately, moreover, hardly seen such motif of tiger among scarce traditional hand-painted yabane by the master carpenter as well. (usually, motif of phoenix, dragon, or crane))
Coming from an old house in Amarume-machi in Shonai area in Yamagata prefecture as its provenance, circa early 20th century. Slightly seen the sign of "Shiro Umeki (name of master carpenter or client), Amarume-machi" at backside. Once briefly washed with water for keeping original condition.
approx. H 66cm (25.98in), W 59cm (23.22in), D 4cm (1.57in)
Sold, Thank you.
#0873
More items from hotoke antiques